Description
10 items: $25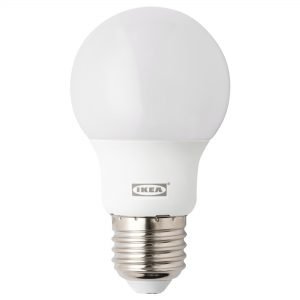 E27 400 lumen, globe opal white
High quality does not always mean high prices. By choosing really high-quality components for RYET LED light bulb, we could exclude other parts and thereby lower the price for you.
Product dimensions
Luminous flux: 400 lm
Power: 5 W
The LED light source consumes up to 85% less energy and lasts 10 times longer than incandescent bulbs.
Good to know
The light from this LED bulb feels as strong as the light from a traditional 35W incandescent bulb.
Not dimmable.
LED life time approx. 15.000 hours.
Light colour: warm white (2700 Kelvin).
Lights up directly when switched on.
Use an opal light bulb if you have an ordinary lamp shade or lamp and want an even, diffused distribution of light.
The light bulb can be used in temperatures from -20°C till +40°C.
Product description & measurements
Polycarbonate plastic
Good read: Best Cheap IKEA Products