Now: $15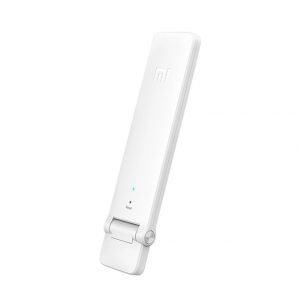 New version – Xiaomi WiFi Extender has a built-in 2 antenna, transmission rate could up to 300Mbps
Xiaomi WiFi Amplifier has 180° rotation USB interface, easy to find best direction to place
WiFi Amplifier Xiaomi could be compatible with most routers, it is easy to set up and pair
WiFi Extender Xiaomi could support multi-level cascade (Or multiple connections at the same level), unlimited number of specific. But too much cascade will seriously affect the speed.
The WiFi Extender is compatible for mainstream routers in the market. If your router is not Xiaomi Router, Please download "Mi Home" APP, click to add equipment, according to the instructions on the app.
Frequent Q&A:
How to use the WiFi extender?
Connect to Xiaomi router: Keep the WiFi extender and Router in 1m, When the indicator of the WiFi extender become blue,it is finished. You could put the WiFi extender to where you want to put
Connect to other router: Download "Mi Home"app, add the device,and follow the prompts to set up.
Q: What need to notice when connect the Wifi Router?
A: Please keep the Wifi extender and Router in 1 meter range when connect them. WiFi extender should be in the router signal coverage after paired
Q: How to reset the Wi-Fi amplifier when connecting to a new router?
A: Reset mode Xiaomi WiFi amplifier: Use a pin to hold the reset hole 5s, waiting for the system indicator light become yellow.
Q: Why my amplifier showing a yellow exclamation mark after connected?
Q: Why i can't searched the device?
A: Please press the reset button when the power on, then reconnect the device
Q: Could the amplifier's power supply be replaced with a mobile phone charger?
A: It is recommended 5V / 0.5A ~ 5V / 2A adapter.
Q: Can the computer be connected to the WiFi Extender?
A: It could connect the computer which has a wireless receiver module, but the desktop computer is not support.
Size: 120mm*30mm*9mm