Raspberry Pi 3 Model B board: $49
Basic starter kit: $79
One microSD card 16GB (class 10), an official case, 3 heatsinks, a power adapter, and mouse
Advanced starter kit: $89
One microSD card 32GB (class 10), an official case, 3 heatsinks, a power adapter, an HDMI to VGA cable, and a mouse
Complete starter kit: $99
microSD card 64GB (class 10), official case, 3 heatsinks, power adapter, HDMI to HDMI cable, mouse, and keyboard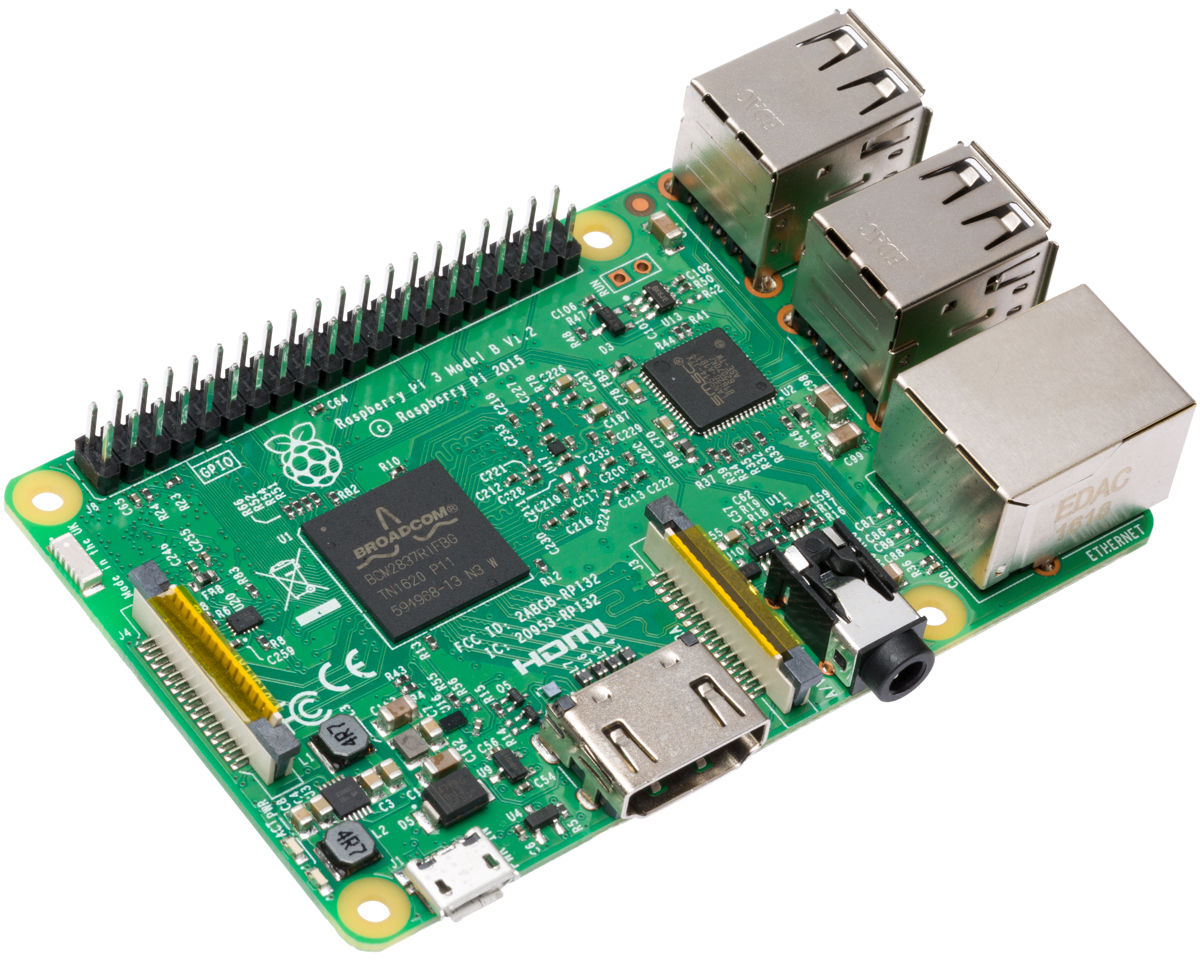 Technical Details:
RAM: 1 GB
Wireless Type: 802.11bgn
Number of USB 2.0 Ports: 4
Brand Name: Raspberry Pi
Item model number: RASP-PI-3
Item Weight: 2.1 ounces
Product Dimensions: 4.8 x 3 x 1.3 inches
Item Dimensions L x W x H: 4.8 x 2.99 x 1.34 inches
Processor Count: 4
Built on the latest Broadcom 2837 ARMv8 64bit processor the Raspberry Pi 3 Model B is faster and more powerful than its predecessors. It has improved power management to support more powerful external USB devices and now comes with built-in wireless and Bluetooth connectivity. To take full advantage of the improved power management on the Raspberry Pi 3 and provide support for even more powerful devices on the USB ports, a 2.5A adapter is required. Made in the U.K. supplied under license by RS Components. Technical Specifications: – Broadcom BCM2837 64bit ARMv8 QUAD Core 64bit Processor powered Single Board Computer running at 1.2GHz – 1GB RAM – BCM43143 WiFi on board – Bluetooth Low Energy (BLE) on board – 40pin extended GPIO – 4 x USB2 ports – 4 pole Stereo output and Composite video port – Full size HDMI – CSI camera port for connecting the Raspberry Pi camera – DSI display port for connecting the Raspberry Pi touch screen display – MicroSD port for loading your operating system and storing data – Upgraded switched Micro USB power source (now supports up to 2.5 Amps)
Why should I buy Raspberry Pi 3?
The addition of Bluetooth will be more important for hobbyists and researchers, who are already using Pis to collect data from various sensors around their labs and homes. With on-board Bluetooth, the Pi will now be able to collect data from sensors without being directly wired to them. Being able to use a wireless keyboard and mouse is a nice benefit, too.
The Raspberry Pi 3 is also getting a speed bump, with its processor jumping up to 64-bit, quad-core 1.2GHz ARM Cortex-A53, up from a 900MHz, 32-bit processor. Its RAM remains at 1GB. Still, it's supposed to make the Pi 3 around 50 percent faster than its predecessor.
TIME Magazine writes that Raspberry Pi is one of the "50 Most Influential Gadgets of All Time"
The Raspberry Pi is a single-board computer with a price tag to match its tiny size: without a monitor, mouse or keyboard. Not meant to replace everyday computers, the Pi is being used in classrooms worldwide to help students learn programming skills. With eight million Pi's sold as of last year, the odds are decent that the next Mark Zuckerberg will have gotten his or her start tinkering with one.