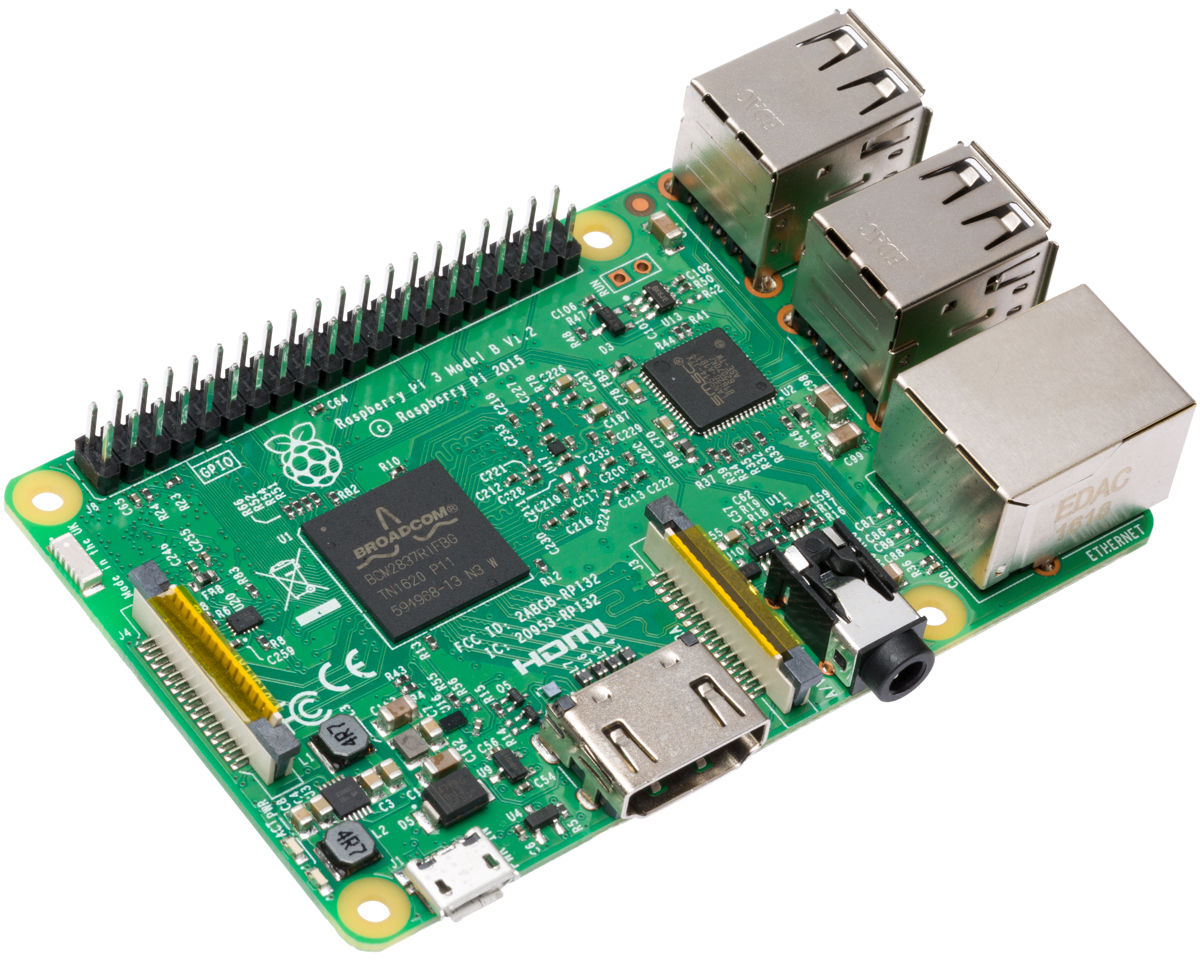 Model B: $49
Model B+: $55
Raspberry Pi 3 Model B basic starter kit: $79
One microSD card 16GB (class 10), an official case, 3 heat sinks, a power adapter, and mouse
Technical Details:
RAM: 1 GB
Wireless Type: 802.11bgn
Number of USB 2.0 Ports: 4
Brand Name: Raspberry Pi
Item model number: RASP-PI-3
Item Weight: 2.1 ounces
Product Dimensions: 4.8 x 3 x 1.3 inches
Item Dimensions L x W x H: 4.8 x 2.99 x 1.34 inches
Processor Count: 4
Built on the latest Broadcom 2837 ARMv8 64bit processor the Raspberry Pi 3 Model B is faster and more powerful than its predecessors. It has improved power management to support more powerful external USB devices and now comes with built-in wireless and Bluetooth connectivity. To take full advantage of the improved power management on the Raspberry Pi 3 and provide support for even more powerful devices on the USB ports, a 2.5A adapter is required. Made in the U.K. supplied under license by RS Components.
Technical Specifications for Raspberry Pi 3 Model B
Broadcom BCM2837 64bit ARMv8 QUAD Core 64bit
Processor powered Single Board Computer running at 1.2GHz
1GB RAM – BCM43143 WiFi on board
Bluetooth Low Energy (BLE) on board – 40pin extended GPIO
4 x USB2 ports – 4 pole
Stereo output and Composite video port
Full size HDMI – CSI camera port for connecting the Raspberry Pi camera
DSI display port for connecting the Raspberry Pi touch screen display
MicroSD port for loading your operating system and storing data
Upgraded switched
Micro USB power source (now supports up to 2.5 Amps)
Technical Details for Raspberry Pi 3 Model B+
The Raspberry Pi 3 Model B+ is the latest product in the Raspberry Pi 3 range.

Broadcom BCM2837B0, Cortex-A53 (ARMv8) 64-bit SoC @ 1.4GHz
1GB LPDDR2 SDRAM
2.4GHz and 5GHz IEEE 802.11.b/g/n/ac wireless LAN, Bluetooth 4.2, BLE
Gigabit Ethernet over USB 2.0 (maximum throughput 300 Mbps)
Extended 40-pin GPIO header
Full-size HDMI
4 USB 2.0 ports
CSI camera port for connecting a Raspberry Pi camera
DSI display port for connecting a Raspberry Pi touchscreen display
4-pole stereo output and composite video port
Micro SD port for loading your operating system and storing data
5V/2.5A DC power input
Power-over-Ethernet (PoE) support (requires separate PoE HAT)
Available in our shop in Phnom Penh, Cambodia