$27
Portable, Foldable & Height Adjustable
Includes High Quality Nylon Carrying Sleeve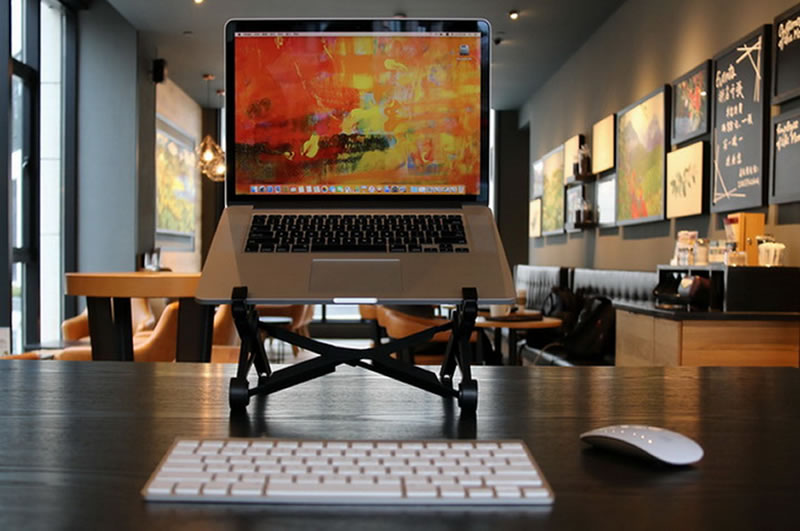 Slim in Size
K2 weighs 8 ounces and
measures only 14″ by 1.5″ by 1.5″ when it is folded up
Much lighter and more portable than most of other stands
Take It With You Anywhere!
Strong in Performance
Made of industrial-grade reinforced nylon
and high quality metal fittings
Combined with its innovative structural design
The K2 can hold up to 20lbs
2-6 times the average weight of a laptop
Instant Set-up
Intuitive mechanical design makes the K2 simple to operate.
One easy action opens and closes the K2.
Switch to work mode in 1 second.
Height Adjustable
K2 features 8 height adjustment options
Raising screen height to your eye-level for maximum comfort and better ergonomics.
Steady As A Rock
With a delicate balance of structural design and engineering, and the assistance of Skid-free Bases & 3M Anti-skid Pads, the K2 shows outstanding stability.
The K2 stands on any flat surface or can even be used on various uneven surfaces: sofa, bed or even grassplot, as long as the 4 legs of K2 are firmly on the surface.
No Risk of Falling Off
Even with a tilt angle of 60 degrees, your laptop is still grasped firmly by Arc Grips and won't fall off the K2.
360 Degrees of Natural Air Flow Cooling
With minimal contact on your Laptop, the K2 ensures sufficient airflow and heat reduction.
No more extraheat stays on the back of your laptop.
Supports All Mainstream Laptops 11.6-Inch or Larger
Self-adaptive pivoting arc grip design gives the K2 unparalleled universal compatibility.
The K2 fits all laptops with a front edge less than 2.0cm and keyboard width greater than 27.5cm. That's almost all of them.
Specifications and Package
Size
[NEXSTAND K2 is very compact when it is folded-up]
K2 is 35.4cm*4cm*4cm when it is packed-up
Folded-up
35.4cm*4cm*4cm
Open
Lowest: 300mm*278mm*160mm
Highest: 265mm*250mm*259mm
Package Includes
What's in the Package
Kraft Paper Box
Nylon Carrying Sleeve
K2-Laptop Stand
Spacers
Manual
( K2 manucal 中文 | にほんご )
( K2 manucal にほんご | English )