SanDisk microSD 16GB: $12
Samsung microSD 32GB: $19
Samsung microSD 64GB: $29
Samsung microSD 128GB: $49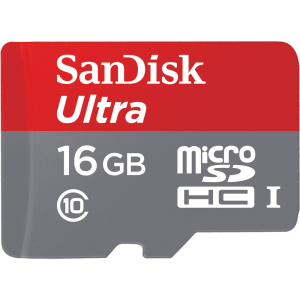 Maximize the performance of your camera or camcorder with the SanDisk Ultra microSD Class 10 UHS-I Memory Card.
Ideal for compact to mid-range point-and-shoot cameras, this versatile microSD card comes with an SD™ card adapter for compatibility with SD-enabled devices, such as cameras, camcorders, and laptops.
Save time moving content from your card to your PC or other device with fast transfer speeds, and Class 10 supports Full HD (1080p) video capture.
Read Speed: up to 80MB/S1
Video Speed: C102
Form Factor: microSDHC
Fast Data Transfer
With transfer speeds of up to 80MB/s, the card brings faster read speeds so you can save time transferring data.
Class 10 Speed Rating for Full HD2 Video Capture
This memory card features Class 10 video rating for high-quality video recording, so you can capture Full HD2 without dropouts and stuttering. And with up to 128GB3 of storage space, the cards allow you to store plenty of Full HD video files before you have to transfer files to your computer.
MicroSDXC EVO Memory Card w/ Adapter 32GB
Up to 95MB/s Transfer speed with Class 10 and U1 compatibility.
Includes Full-Size SD Adapter.
Excellent Performance for Full HD video and broad compatibility across multiple applications.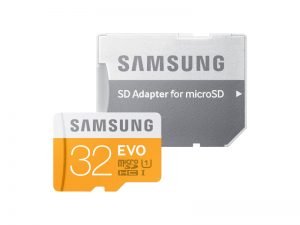 Capture Faster
Save your precious memories—fast. This Ultra High Speed memory card is UHS-1 enabled, which means it captures photos and video two times faster than your typical microSD.
Key Features
Up to 95MB/s transfer speed with UHS-I interface* The foregoing read & write speeds are demonstrated by internal test conducted under certain controlled conditions, and actual speeds may vary depending upon usage and other conditions. For products incompatible with UHS-I interface, the speeds may vary subject to different interface conditions* Write speed is slower than transfer speed
Review: The Best Camera Memory Cards