(available for order)
Ultimate power and beauty
+ Both air purifier and virus inhibitor
+ No fan and no filter
+ Extremely silent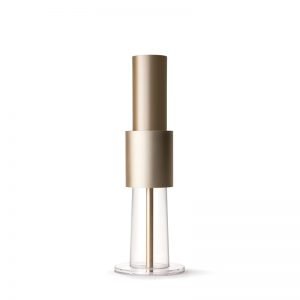 Our IonFlow Evolution Gold has a sophisticated Scandinavian design, with a beautiful slightly conical stand. The IonFlow Evolution series has a compact design to be easily placed on a table or desk. Handles areas up to 50 m2 (540 sq ft).
The IonFlow Signature air purifier cleans the air from the most harmful particles – fine, ultra-fine and nanoparticles – using our patented technology. IonFlow works by charging the particles in the air negatively, while the collector is positively charged. This way the particles are drawn to the collector pretty much in the same way a magnet works and makes it possible to eliminate viruses while they are still airborne in the room.
Life-changing improvement
LightAir makes a life-changing improvement for people with asthma, allergies and COPD, as well as for children, the elderly and the ill, who are most sensitive to infections, fine particles, and ultra-fine particles.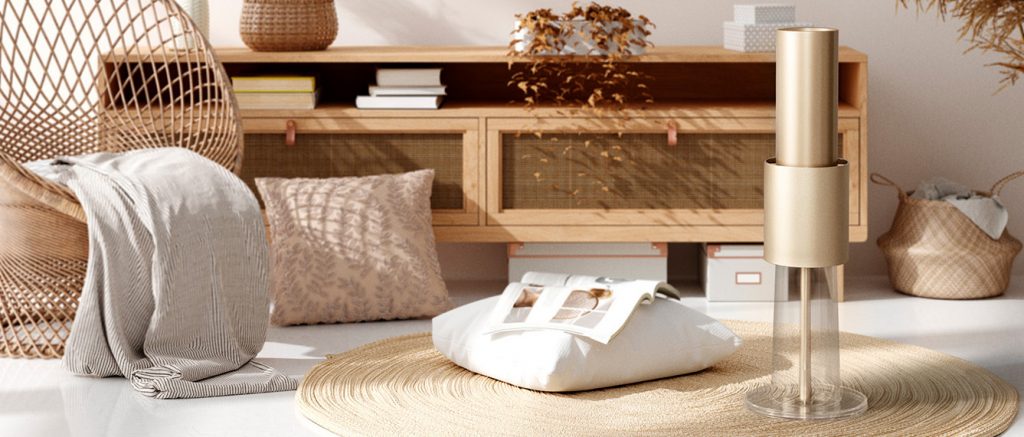 Conventional air-purifying solutions only handle particles larger than PM0.3 and cannot deal with the most dangerous particles in indoor-air, hence only addressing 10% of harmful indoor-air pollution. Our filter-free and silent IonFlow efficiently cleans your air from 99.94% of pollutants such as traffic pollution, mold, smoke, fine dust, pet allergens and more – all the way down to PM0.007. Scientific research also prove that IonFlow neutralizes over 97% of the virus immediately in your indoor-air, without having to pass through any filter or similar.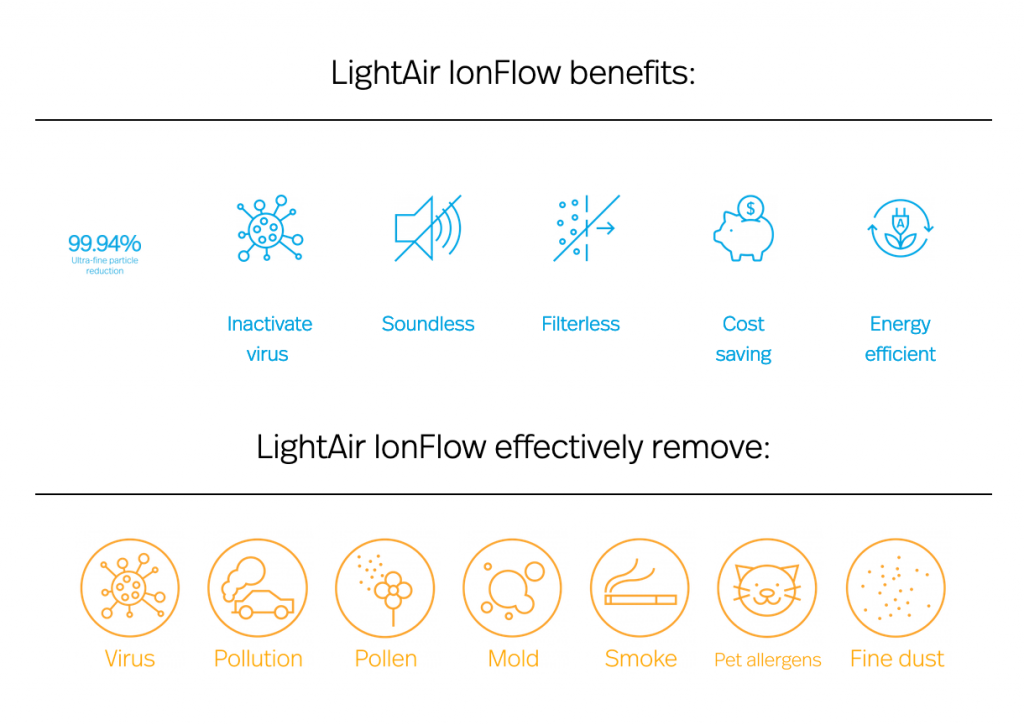 Specifications
Dimensions: 7,5×23 inches/19×59 cm
Weight: 5,7 lbs/2,7 kg (excl. adapter)
Room size: approx. 540 sq ft / 50 m2
Noise level: 21 dB including background noise.
Energy consumption: 5W
Certifications: EMC (Electromagnetic Quality) CE, ETL (US), GS, S, BSMI, CQC
Particle reduction: Effectively removes particles (size 0.01-1.0 μm). Especially efficient eliminating the smallest and most dangerous particles (ultra-fine particles below 0.1 µm), but it also removes larger particles (1.0-25.0 μm) at a reasonable rate.
Negative ion effect: 19'000'000 negative ions/cm3 on 1 cm distance, 250'000 negative ions/cm3 on 1 m distance.