Kindle DX
Out of stock; discontinued product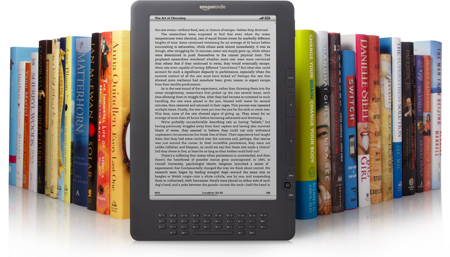 High Contrast E Ink Pearl Screen: Our graphite Kindle DX display uses E Ink Pearl technology with better contrast for clear text and sharp images
Beautiful Large Display: The 9.7″ diagonal E Ink screen is ideal for a broad range of reading material, including graphic-rich books, PDFs, newspapers, magazines, and blogs
Read in Sunlight with No Glare: Unlike backlit computer or LCD screens, Kindle DX's display looks and reads like real paper, with no glare. Read as easily in bright sunlight as in your living room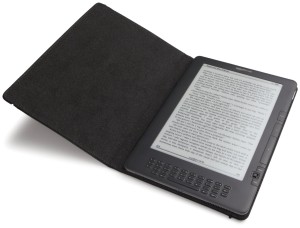 Slim: Just over 1/3 of an inch, as thin as most magazines
Books In Under 60 Seconds: Get books delivered wirelessly in less than 60 seconds; no PC required
Free 3G Wireless: No monthly payments, no annual contracts. Download books anywhere, anytime. For U.S. customers traveling abroad, additional charges apply for wireless delivery of periodical subscriptions, which is not available in all countries. For details, click here. To avoid any charges, you can always download items via your computer and transfer them to your Kindle using USB.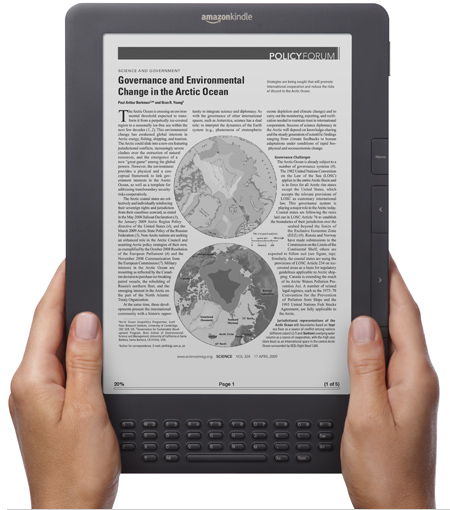 Long Battery Life: Read for up to 1 week on a single charge with wireless on. Turn wireless off and read for two to three weeks.
Carry Your Library: Holds up to 3,500 books, periodicals, and documents
Buy Once, Read Everywhere: Kindle books can be read on all your devices. Our Whispersync technology saves and synchronizes your Kindle library and last page read across your Kindle(s), PC, iPhone, Mac, iPad, Android device, and BlackBerry device
Share Meaningful Passages: Share your passion for reading with friends and family by posting meaningful passages to Twitter and Facebook directly from your Kindle
Global Coverage: Enjoy wireless coverage at home or abroad in over 100 countries. See details. Check wireless coverage map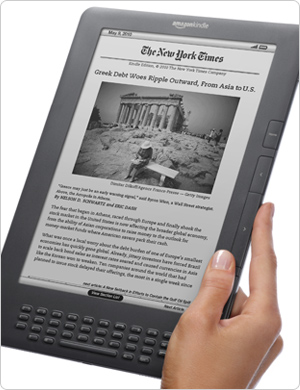 Built-In PDF Reader: Carry and read all of your personal and professional documents on the go. Now with Zoom capability to easily view small print and detailed tables or graphics
Auto-Rotating Screen: Display auto-rotates from portrait to landscape as you turn the device so you can view full-width maps, graphs, tables, and Web pages
Read-to-Me: With the text-to-speech feature, Kindle DX can read newspapers, magazines, blogs, and books out loud to you, unless the book's rights holder made the feature unavailable
Large Selection: Over one million books and the largest selection of the most popular books people want to read, including New York Times® Best Sellers, plus U.S. and international newspapers, magazines, and blogs. For non-U.S. customers, content availability and pricing will vary. Check your country
Free Books in the Public Domain: Millions of titles in the public domain, including The Adventures of Sherlock Holmes, Pride and Prejudice, and Treasure Island, are available for free. Learn more
Lowest Book Prices: Over 600,000 books are less than $4.99; over a million are less than $9.99.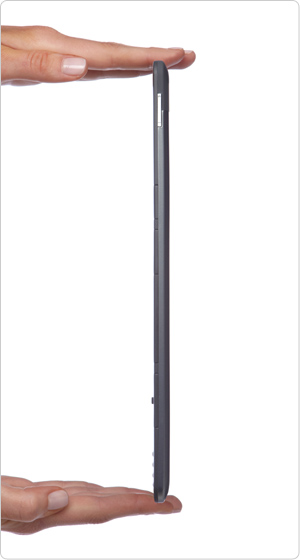 Free Book Samples: Download and read first chapters for free before you decide to buy
Large 9.7″ display with eight adjustable text sizes, perfect for large print reading
The Kindle Store: One Million eBooks, Newspapers, Magazines, and Blogs
Specifications:
Display: 9.7″ diagonal paper display with E Ink Pearl technology, 1200 x 824 pixel resolution at 150 ppi, 16-level gray scale, 10:1 contrast ratio.
Size (in inches): 10.4″ x 7.2″ x 0.38″.
Weight: 18.9 ounces.
System requirements: None, because it doesn't require a computer.
Storage: 4GB internal (approximately 3.3GB available for user content).
Battery Life: Read on a single charge for up to 1 week with wireless on.
Turn wireless off and read for two to three weeks.
Battery life will vary based on wireless usage, such as shopping the Kindle Store and downloading content.
In low-coverage areas or in EDGE/GPRS-only coverage, wireless usage will consume battery power more quickly.
Charge Time: Fully charges in approximately 4.5 hours via the included U.S. power adapter. Also supports charging from your computer via the included USB 2.0 cable.
Connectivity: HSDPA modem (3G) with a fallback to EDGE/GPRS; utilizes Amazon Whispernet to provide wireless coverage via AT&T's 3G high-speed data network in the U.S. and partner networks outside of the U.S. See Wireless Terms and Conditions.
USB Port: USB 2.0 (micro-USB connector) for connection to the Kindle DX power adapter or optionally to connect to a PC or Macintosh computer.
Audio: 3.5mm stereo audio jack, built-in stereo speakers.
Content Formats Supported: Kindle (AZW), PDF, TXT, Audible (formats 4, Audible Enhanced (AAX)), MP3, unprotected MOBI, PRC natively; HTML, DOC, RTF, JPEG, GIF, PNG, BMP through conversion.
Included Accessories: U.S. power adapter (supports 100V-240V), USB 2.0 cable, rechargeable battery. Book cover sold separately.
Documentation: Quick Start Guide (included in box) [PDF]; Kindle DX User's Guide (pre-installed on device) [PDF].
Warranty and Service: 1-year limited warranty and service included.